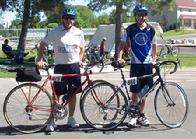 Ride With Us !
PLEASE HELP! Sponsor Us Now or Ride With Us June 28/29 !
Click here to visit the sponsorship page or join our team.
I am participating in the 2014 Bike MS150 and I invite you to sponsor or join our team. Our team name is Merrill Legacy, but anyone can ride with us. This is a cycling event in Cache Valley, Utah to benefit research and programs for those living with Multiple Sclerosis. I ride for two sisters, a neice, neighbors, and a growing list of friends with MS.

This will be my seventh ride for MS, and our fifth year as an independent team. We're shooting for a ride of 100 miles for each member this year.

Don't hesitate -- please help now. We need you.
Click here to visit the sponsorship page or join our team.
Note* You can reach me anytime by phone with any questions: 801.628.0800

PS. If you would like more information about the National MS Society, how proceeds from Bike MS are used, or the other ways you can get involved in the movement to create a world free of MS, visit curemsutah.org.


If the links above do not appear clickable, you can visit the web address:
http://main.nationalmssociety.org/site/TR/Bike/UTUBikeEvents?team_id=373144&pg=team&fr_id=22337
SPECIAL LIMITED OFFER !


I've been playing drums 44 years. For every $100 pledge to our team ride, I will personally provide 4 drum lessons (Utah - Davis County area). If you don't have drums, come to my home to play my professional drum kit! This is a great opportunity to find out if your child has natural rythmic talents, or if you missed your true calling in life! Follow the links to sponsor our team ...




Rockin' and Rollin' for MS!
Website powered by Network Solutions®